Giving meaningful and useful personal gifts has always been appreciated. There are hundreds of money saving ideas you can create, if you use a little imagination and take advantage of discounts when you see them.  Make useful personal gifts that fit within your budget.  So what are you waiting for – you have some gift giving ideas to check out.
Below are gift giving ideas for useful personal gifts you can create!! Anniversary gifts, baby gifts, wedding gifts, birthday gifts, gifts for her, gifts for him, graduation gifts and personalized gifts for the special people in your life.
Maybe you are known for a flavorful cake, bars or chicken dish! Give a cake pan with a cover, or a cake pan set (depending on your budget and how good of a bargain you can come by), and include a copy of your famous recipe. Make sure to include any special notes on preparation shortcuts or a picture, if that would help explain.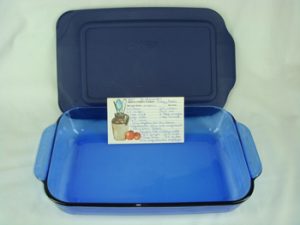 Maybe the gift is for someone who hasn't been cooking long or they are just setting up supplies in a new kitchen. Wrap up a mixing bowl set, measuring spoons, cups and a rubber spatula. If you have a favorite recipe book, include with your favorite recipes marked. The cookbook in this picture was purchased as a fundraiser for my children's school.  I purchased extra copies to help raise money for their school and had each child write the page of the recipe they submitted and then they signed it. This adds a special personal touch!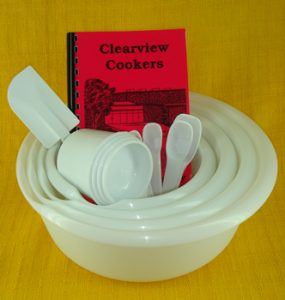 Maybe you have a young college student who will be living away from home. What a nice gift to have a special blend of hot chocolate mix and a favorite mug to sip on while studying on a cold evening! This also makes a great gift for a babysitter, co-worker, neighbor, barber, housewarming or get well. If you are not a fan of hot chocolate, create a special blend tea or coffee. There are many recipes available on the internet or inexpensive books you can purchase for delicious homemade food gift ideas.
You can also make quart jars of Cookies in a Jar, Brownies in a Jar and Soups. These make wonderful inexpensive homemade gifts that have a personal touch and will be greatly appreciated.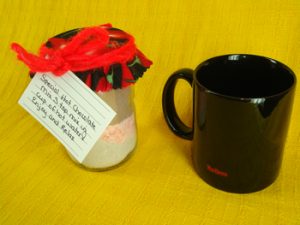 Maybe you do a lot of canning and want to give a gift to a friend who is either just getting started in canning, or has been canning for years. Watch for sales on canning jars, and give a case of jars and include a copy of some of your favorite recipes or a Canning Guide Book. Below is a case of jelly jars and a copy of a Guide I have used for years.  NOTE:  When I find a Cookbook or Guide I really like, I'll buy a spare to keep for a special gift idea.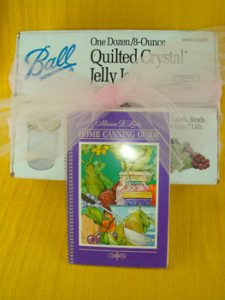 Or give a case of quart jars and a Canning Guide that includes methods for just about anything they want to preserve. If you can't find a good deal on jars, look for a canning kettle, water proof mitts, cheese cloth or any canning supplies they may need.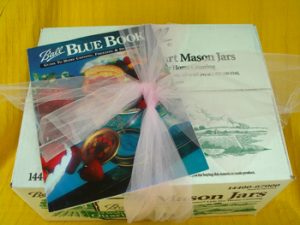 I started making cakes in a bundt pan many years ago and they have become very popular and requested at social gatherings.For the special individual who wants to eat cake more often, I'll give a bundt pan and a favorite recipe. NOTE: I may also include the recipe for our family "Pan Slick" to grease the pan that is also located on this website.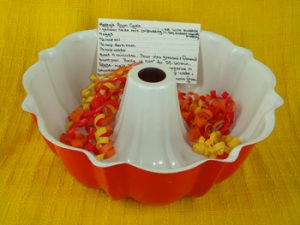 I started my own 3 ring binder Cookbook a while back to keep and organize individual recipes I have accumulated. Create a new 3 ring binder and copy your recipes for a special gift to a child leaving home, a family member who loves your cooking or a wedding gift for a young couple. Add some personal pictures, or stories about your successful and not so successful cooking experiences!! You can place the recipes in clear protector sheets and organize with labels. Put some extra empty plastic sheet protectors in the back for them to continue to add their own favorites.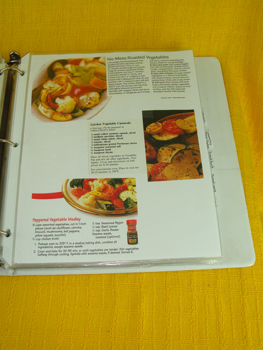 These are just a few unique personal gift ideas I've used in the past. Make a list of people you plan to give gifts to in the coming months (remember Christmas will be here before you know it!!!) and start watching for sales and close outs. Use your imagination and come up with thoughtful useful gifts that fit within your budget.

Latest posts by Mara Anderson
(see all)
Comments