I started with one Aloe Vera plant many years ago and have split off baby shoots and given away plants. There are many products on the shelf that contain aloe that work well – but having a plant available to use daily is economical and natural. Slice off an entire fleshy leaf or just an inch off the tip, depending on how much you need. For fast relief, cut it open on the side, pull apart and spread flat; it has a cool, refreshing feeling when applied.
Aloe is generally safe for skin, but it is suggested to apply first to a small test area for possible allergic reaction. Use for:
Sunburn or just a little red
Cuts and scrapes
Burns
Blisters
Rashes
Dry, chapped or irritated skin (apply a generous amount to your hands at bedtime)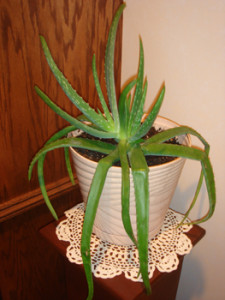 Your Aloe plant may not always look perfectly proportioned, if you use it often. But the benefits of this plant far out weigh how it may look after multiple uses.
How do you use the Aloe Vera plant?

Latest posts by Mara Anderson
(see all)
Comments