Remove stains, discoloration and yellowing from family treasures. Recently you may have come across some quilt blocks left in the attic for years and in need of some stain removal before starting the assembly of a new quilt. Read on for a solution to get you on track for a new project.
See the discoloration in the following photo after the Needlepoint piece was removed from a frame which had been on the wall for a few years. The outside edge of the piece that was secured to the back side, remained white, while the exposed front side has become discolored over time.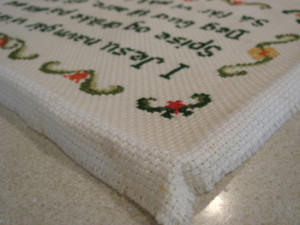 1 gallon tap water
1 quart buttermilk
1 T. lemon juice
Mix these 3 ingredients and use to soak Needlepoint or Quilt Blocks, until whiteness achieved. Rinse well; wash and rinse as normal; dry flat.
If after soaking 24 hours the colors are good, but it is still a little yellow; remove from this solution and rinse well. Mix 2 cups of water and 1 to 2 tablespoons of Clorox and soak your cloth in this for about ½ hour; then rinse well and lie flat on white towel until dry. Watch carefully when using the Clorox solution!
See the difference in the photos below after using these cleaning products and cleaning method.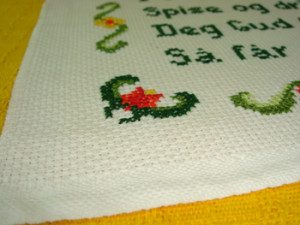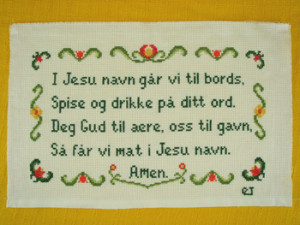 Helpful Tip: Always test on small section of your item, as fabrics react differently.

Latest posts by Mara Anderson
(see all)
Comments