Next time your recipe says to grease and flour your pan, use this homemade pan slick recipe known to many as Bakers Grease.
This is a great mixture to keep on hand in your refrigerator, for your baking projects. You just need to grease your baking pan once with this mixture, instead of having to grease and then the messy dusting of the flour.
Mix together equal portions of these 3 ingredients:
Flour
Shortening
Liquid Oil (Olive oil, Coconut oil, etc)
I usually mix up a batch when I have my mixer out and am baking something. When I am done mixing up the Bakers Grease, no need to clean the beaters or bowl, just start mixing up your recipe ingredients.
If you use 1/2 cup of each ingredient, it will just fit in a small margarine container. Mix until creamy consistency, as shown below. The ingredients will separate, a little, in the refrigerator, so just blend together with a spoon next time you use it. You can apply to your pan with your fingers or using a pastry brush. Food and Kitchen Ideas for Happy Baking!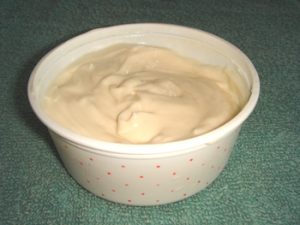 Latest posts by Mara Anderson
(see all)
Comments