Never seen or heard of tomato ice cubes? Well, once you use tomatoes made in an ice cube tray, you'll love how quick and easy they are to create and the convenience of cooking with them. Food and Kitchen ideas for anyone looking for flavorful cooking tips.
Pick firm, ripe tomatoes from your garden or purchase the type of tomato you like to cook with. Wash them with water, but leave on the skins and stems, if there are any. Fill a saucepan half to three-quarters full with water and bring almost to a boil.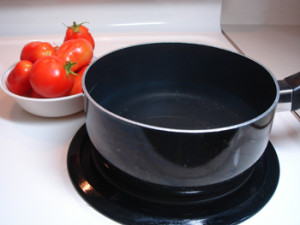 Drop in a few tomatoes and cook for a minute, or until the skins start to peel off. Remove the tomatoes with tongs and place flat on a plate or cookie sheet to cool enough for you to be able to touch.
Depending on how many tomatoes you have, you may need to do many batches. You can also heat the water in the microwave, if you would prefer; bring the water almost to a boil and remove from the microwave and place your tomatoes in your heated water. You may need to return the water to reheat if you have a lot of tomatoes.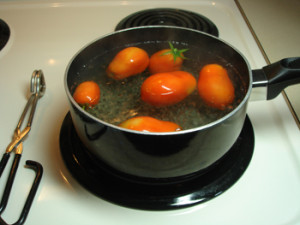 Remove the skins, stems and just the top center core of the tomato. Dice and place into an empty ice cube tray. It works best to press the tomatoes gently to allow the juice to fill in any spaces, so you will have whole solid formed tomato cubes.
When you have a tray filled, place it level in your freezer until the tomatoes are completely frozen (this will take a few hours or overnight).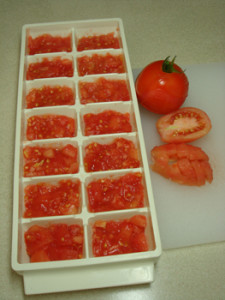 When they are completely frozen, remove the cubes and place them in a freezer bag or freezer container of your choice. Label with item name and date.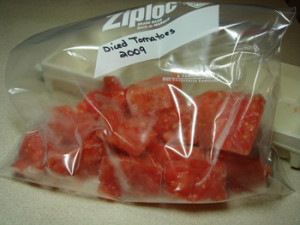 Uses for Tomato Ice Cubes:
Add to Chili, casserole dishes, Spaghetti sauce, Sloppy Joes or any dish that you want fresh tomato taste and texture. The nice thing about the cubes, is that you add the amount you want and there is no need to thaw before adding to your dish. Just put a few cubes in when you add your other ingredients and simmer until ready to serve.
If you have a recipe that calls for canned diced tomatoes, you can estimate how many cubes would equal the ounces in the can and thaw out that many cubes and add to your recipe.
They work great to add to cooked pasta, with fresh basil or Pesto Sauce. Add to soups and stews.
If you enjoy an ice cold glass of tomato juice – add a couple of cubes to your tomato juice and it will add fresh flavor and a few pieces of tomato at the bottom of your glass. This would also work great next time you have a brunch and serve Bloody Mary's.
At the end of your garden growing season, if you have any green tomatoes left, you can dice them up this same way and make cubes. They add great flavor and texture to your favorite recipes.
Enjoy!

Latest posts by Mara Anderson
(see all)
Comments