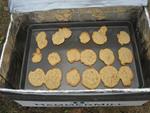 Looking for cooking tips for making a chewy Oatmeal Cookie recipe you can make ahead of time and have ready in your refrigerator or cooler for when you are ready to bake? Try these delicious Oatmeal Refrigerator Cookies Baked in an Outdoor Oven.
OATMEAL REFRIGERATOR COOKIES:
1 cup butter
1 cup sugar
1 cup brown sugar (packed)
2 eggs
1 1/2 cups all-purpose flour
1 tsp. baking soda
1 tsp. salt
3 cups quick cooking rolled oats
1 tsp. vanilla
Take the butter out of the refrigerator and leave at room temperature until softened. Blend together the butter, sugars and eggs with a mixer.  Mix the flour, soda and salt together in a separate bowl; then add these dry ingredients to the butter mixture along with the oats and vanilla. Blend together well.; Form into long rolls. (see below) Refrigerate overnight. Cut in 1/4 inch slices. Bake at 375 degrees for 8 to 10 minutes.
Makes approximately 4 dozen cookies.
Make this dough and keep refrigerated up to 1 week, or at least 8 hours. The longer they are refrigerated, the more flavor there is to the cookie.
Helpful Hint: Whenever I'm baking cookies, I remove them from the oven when they are just starting to turn brown around the edges. I leave them on the cookie sheet for a few minutes and they will continue to cook through. Then I remove them to the cooling rack. This helps to keep your cookies soft and chewy.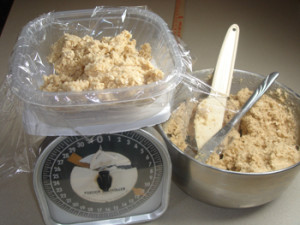 Here I measured out 4 equal quantities for my logs. I used a scale, as I was making multiple batches and wanted to make sure they were all the same size.  Otherwise just make a batch into the amount of logs you want.I lined my plastic measuring container with plastic wrap and dropped the dough on top of it.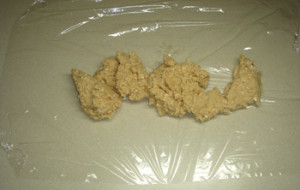 Next I spread out the dough lengthwise a little with a spoon. Then I took the longest sides of the plastic wrap and put them together and started to turn them together in one direction until the plastic wrap was tight around the length of the log.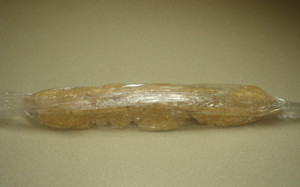 Here you can see how the plastic wrap has been folded down. Then I used both hands to blend the dough together to form a nice even log; then twisted the 2 end pieces of plastic and folded them over the log.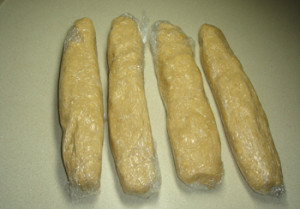 Here are my 4 logs ready to go into the refrigerator.
When you are ready to bake cookies, cut slices, place on your cookie sheet and bake.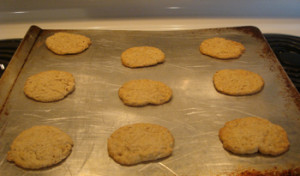 This recipe can also be made at home and baked in your kitchen oven. They taste great this way also… enjoy!
Until we meet again – enjoy the great outdoors!

Latest posts by Mara Anderson
(see all)
Comments