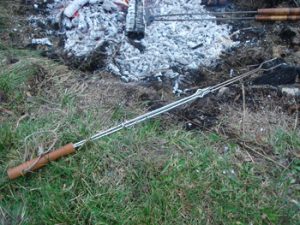 Roasting marshmallows and making smores, "yum".
Safety is always priority when maintaining your campfire and using roasting forks. Roasting forks with long handles will keep you farther away from the fire and less chance of getting burned.  If you are using a stick, look for a long sturdy branch you can whittle a point on one end.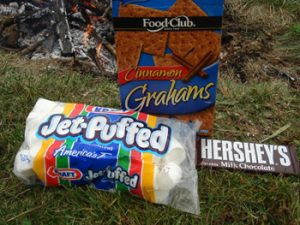 Here are the ingredients for traditional smores. You can use name brand items or your local store brand product. As you can tell from my picture, I use both – depending on the best value at the time of purchase.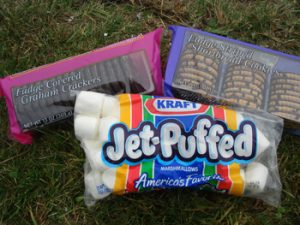 Camping Tips: For Smore Varieties, you can purchase ready made cookies such as Chocolate Covered Graham Cracker or Chocolate Covered Shortbread Cookies. I recall a couple years ago purchasing Thanks-a-Lot Girl Scout Cookies that worked awesome. This is a great tip for only needing to bring a package of cookies next time you go camping instead of both graham crackers and chocolate bars!!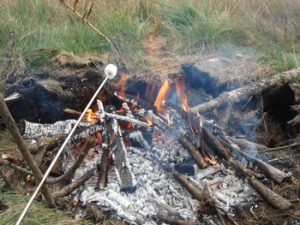 When your campfire coals are hot, carefully put a marshmallow on the end of your roasting fork or whittled stick. Find a comfortable (non smoky) spot to sit around the campfire and slowly turn your marshmallow to brown it all the way around.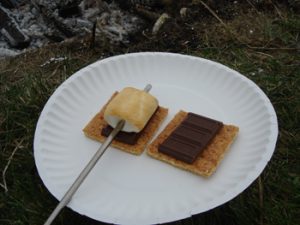 Prepare the graham crackers and chocolate bar on a plate or sturdy surface prior to beginning to roast your marshmallow. When your marshmallow is golden brown, set the marshmallow on the bottom half of your Dessert Smore.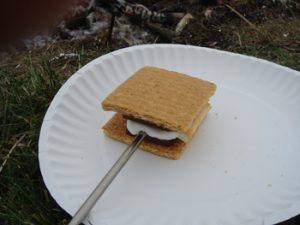 Set the top half over your roasted marshmallow and press down gently, while pulling the roasting fork or stick out of your marshmallow.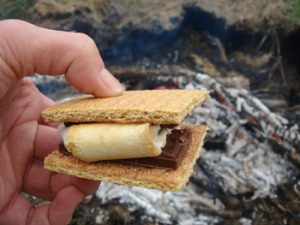 Get ready to enjoy your yummy "Dessert Smores"!!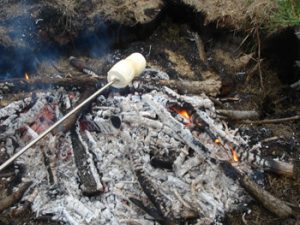 Now for your Smore Varieties.  Put two marshmallows on your roasting fork or stick you whittled on one end. Remember to be careful around your campfire!  Find a good spot to roast your marshmallows until they are golden brown.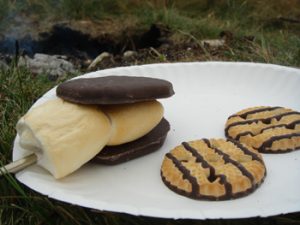 Have your cookies set out and ready before you start roasting your marshmallows. Place a roasted marshmallow on each cookie, place a second cookie on top and carefully remove your roasting fork or stick.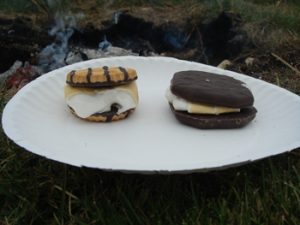 Don't they look good!?! Enjoy! There are many outdoor cooking recipes in this section for you to experience on your next camping adventure.

Latest posts by Mara Anderson
(see all)
Comments