When you have used all of a purchased product like baby wipes, tea container, pickle or jelly jars – reuse the containers to organize your shelves and drawers. Remove labels, clean container and find multiple household uses. By using clear containers, you can easily see what is inside. Or apply a label or use tape and a marker, if you can't see the contents. I reuse plastic orange juice clear containers to store my homemade laundry soap in, works great!

Let your friends and family know, and they can save containers for you, or maybe they'll start doing it for themselves. Either way, it's reusing something you already have, not spending money on new containers and possibly saving a landfill from one more container!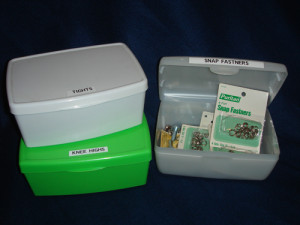 There are countless items you can organize this way. Here are just a few:
Buttons
Cotton Balls/Q-Tips
Kids Stickers
Crayons/Pencils/Pens
First Aid Kit
Batteries
Matches
Sewing Supplies
Nylons and tights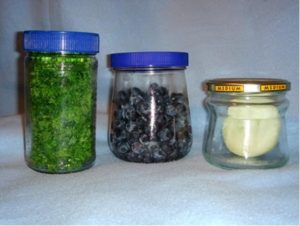 Ideas for your refrigerator:
Fresh fruit
Parsley
Onion (I keep my jar in the top bin on the refrigerator door, so it is always visible!)
Homemade dips and spreads (you can label and date when made)
Single serving size leftovers! (This is great for when kids can't be home for a meal and they can easily microwave or bring the jar to work for a great lunch).
Ideas for dry storage:
Pasta
Rice
Popcorn
Flour
Sugar
Anything you want visible, dry and bug free.
Do you have some additional storage ideas for plastic and glass storage containers? Share your ideas below.

Latest posts by Mara Anderson
(see all)
Comments