Perennial gardeners who are seeking a low maintenance, sun loving, tough plant with a long term seasonal appeal are impressed with the performance of the perennial Sedum plant. Read on for money saving ideas for growing Sedum plants.
The preferred home for the Sedum is in a sunny location, but it tolerates light shade and thrives in formidable garden conditions. The Sedum is a dependable choice, offering foliage interest early in the season and displays colorful flowers in late summer and fall. The succulent leaves store water to make this a hearty plant during dry spells.
In rich soil, the plant can be trimmed to prevent floppiness later in the season. The trimmed Sedum photo below was taken in June, where the plant was located in a sunny location. The appearance is compromised for a short time – but new foliage starts growing quickly.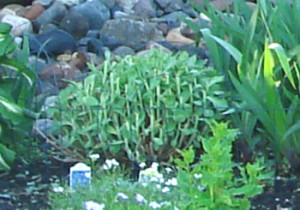 Below is a photo taken in July of the same plant. It filled in beautifully, is standing tall and complements the surrounding plants. I use a compost pile that I put organic matter into (vegetable and fruit peelings, egg shells, grass clippings and leaves). The composted material is used in my garden areas when planting and transplanting.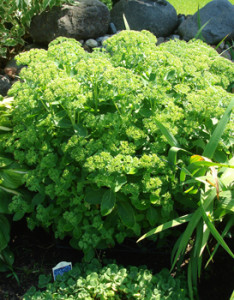 Now here is the really creative and cost saving additional benefit of the Sedum plant. Back in June when I trimmed the original plant, I planted all of the trimmed off stems and leaves in a shady, hilly, sandy soiled area of my yard that is in need of some fresh growth (I know, not the most ideal growing conditions, but wanted to let you know how hardy these plants are).
I simply poked a hole in the ground, inserted the cut stem into the hole, gently pressed the soil back around the stem and have been keeping the area watered. The photo below shows how these stems have taken hold and formed a root system. This is an inexpensive way to form a beautiful border between your yard and adjoining woods or grassland areas.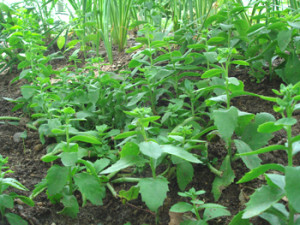 The Sedum photo below shows where last summer, cut stems and leaves were planted to cover utility equipment in my neighbors yard. Look at how strong and healthy the new transplants look after only one full growing season!!
Invest a little time, get a little dirty, reap the benefits of enjoying our great outdoors and getting some exercise at the same time!!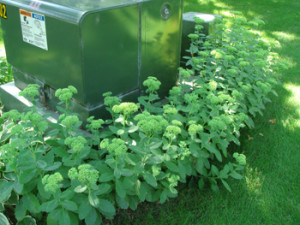 If you do want to multiply an established Sedum plant by root division. Divide clumps in fall or early spring.
Have questions? Leave a comment below.

Latest posts by Mara Anderson
(see all)
Comments