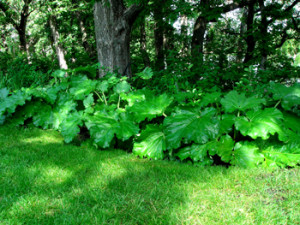 Growing your own vegetables and using organic matter is a great way to provide healthy food for your family.
In tough economic times, growing your own food gains popularity. Michelle Obama had made national news when she lifted the turf for her L-shaped organic vegetable garden. The White House kitchen garden was perfectly manicured, incredibly bountiful and the envy of any vegetable gardener.
Some plants we grow to eat fresh only, like lettuce and radishes. While others we preserve, freeze, dehydrate and dry cold storage. We save seeds from year to year for beans, squash and peas; while rhubarb, asparagus and many berries are perennial (this is a photo of my 4 rhubarb plants).
Vegetable gardening provides foods with no added preservatives for our families, personalized gifts, exercise and a wonderful way to relax our mind while digging in the soil. Enjoy this healthy hobby!!
At the end of each growing season, save seeds where possible, dry them and store in a cool, dry area until the next growing season. You can start your seeds indoors for tomatoes, peppers, and other plants that need a longer growing time. The green beans I planted were originally purchased by my parents over 20 years ago and have been saved and shared since with many friends and family, from each year.
I use a compost pile that I put organic matter into (vegetable and fruit peelings, egg shells, grass clippings and leaves). The composted material is used in my garden areas when planting and transplanting.
Money Savings tips for saving seeds, can make your annual plants seem like perennials (with a little more work involved). Saving seeds saves money and can provide a very hardy plant that grows and produces well. I leave some pods on my plants towards the end of the growing season that are larger than I would typically pick for eating. When frost is forecast, I pull all the plants and hang them upside down on a homemade tomato cage, as shown below.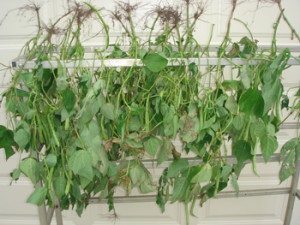 Leave them to dry and then remove the seeds from the pods, if you have a large enough area to store your full plants, for a period of time.; If not, just hang them until the pods start to dry, then remove the pods to totally dry on newspaper or brown paper bags, in a single layer.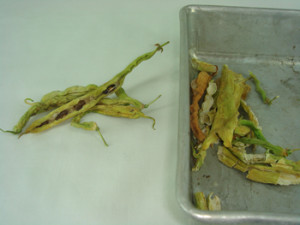 Once the pods are totally dry, remove the seeds and store them in an airtight glass jar or a brown paper bag. Keep moisture away from the seeds, or they will mold.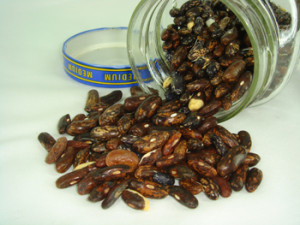 Daylilies are a beautiful and hardy flowering perennial that brings color to your garden. The yellow blossoms appear and then dry into pods as shown in the photo below.
You can remove the dried pods and find seeds inside that you can keep to plant for next year. And while daylilies will grow well in almost any kind of soil, the best performance will occur in soil with high organic matter and that is well drained. Great gardening hints for recycling and reusing what you have.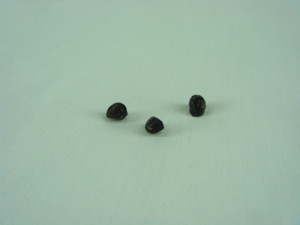 You can also divide your Daylily plant when the base gets over crowded and large. Just dig it up and pull or split the roots apart. Transplant to other parts of your yard or share with family and friends. This is best done in early spring or late fall.
These are just a couple of plants where you can save seeds. How many of you carved pumpkins recently or just cooked up some homegrown squash? Both of these plants have large seeds that are easy to dry and save for next growing season. Now that I have you thinking about it, maybe you could start saving these seeds next year: cucumber, zucchini, sunflower, green peppers or any kind of pepper you enjoy!

Latest posts by Mara Anderson
(see all)
Comments