When your plants are an inch or two high, carefully remove overcrowded plants for future growth spacing (the row on the right is starting to be thinned). Replant the removed plants in a newly established row (on the left) – see picture demonstrating to insert a pencil or straight object into the soil for the newly established row.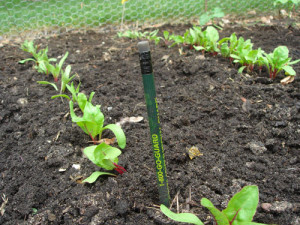 Cover up the roots and part of the stock. Water soon after! The newly transplanted row will look limp for a few days until the roots adjust to their new environment. Water carefully until transplanted row is up and growing!
Below is an updated photo taken about a week after the beet plants were thinned and transplanted.  You can see that the original row is larger, but the transplanted row roots are getting established and the plants are starting to stand up.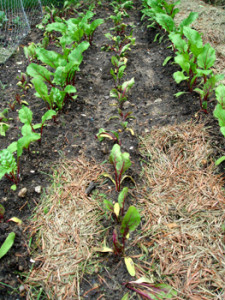 Latest posts by Mara Anderson
(see all)
Comments