DIY – Freezing Tomatoes, Onion and Green Pepper

A number of years ago, towards the end of the growing season, I had an abundance of tomatoes, onions and green peppers. Many cooking ideas and recipes came to mind and I created freezing tomatoes, onions, and green peppers = Homemade TOG. It's one of those time-saving cooking tips that I've shared with my many passionate gardening friends.
I used these three ingredients together in many recipes, so thought why not do all the prep work at harvest time and freeze them together! TOG was created (short for Tomatoes, Onion and Green Peppers)! You can add as much of each of these ingredients as you want, depending on your preference for when you use it in a recipe.
I wash the tomatoes, cook them briefly in hot water to remove the skins, the same way that I do for making Tomato Ice Cubes.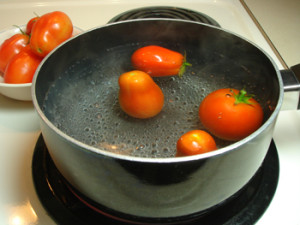 I then place diced tomatoes in the bottom of my container and add diced green peppers.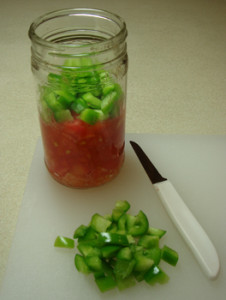 Then add the onions and you have TOG.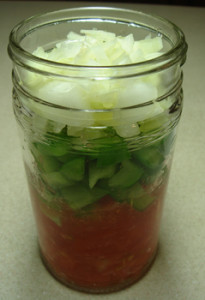 Label, date your container and put it in the freezer. You can do a container whenever you have time and ripe vegetables. For my website I used a glass jar, so you could easily see how I prepare this mixture, but I also use plastic containers, as you can pull a plastic container from the freezer and the mixture just pops out so you can add it frozen to your cooking.
If you use a glass container, you will need to partially thaw TOG, so it will remove from the container easily. I save left over plastic food containers of varying sizes for this purpose, as different recipes call for more or less of these ingredients.
Uses for TOG (Tomatoes, Onions and Green Peppers):
TOG works great for chili or any tomato based dish you are making that onions and green peppers can also be used as ingredients. You can add it frozen or thaw it prior to adding to your recipe.
Use TOG next time you make meatloaf, homemade pizza, soup or stew. Or if you grew up with stewed tomatoes as a side dish, like I did – just simmer some TOG in a saucepan while you are making your meal. Enjoy the fresh taste of these 3 ingredients as a sauce over meat, potatoes or as a side dish.
Wouldn't you love to come home from work and have a nice roast dinner ready? Place potatoes cut in half in the bottom of your slow cooker, add your roast, carrots or other fresh vegetables and TOG on top. Follow cooking instructions for your slow cooker and enjoy!!

Latest posts by Mara Anderson
(see all)
Comments