You wait for a great sale on ground beef so you can stock your freezer. When it happens, do you freeze all of it in individual pound packages to take out each time you need to prepare a meal?
What Can I Make With Ground Beef?
Read on for ground beef cooking ideas, recipes and money saving tips for meal planning.
When you purchase food items in bulk, a scale makes the process easy for evenly dividing out individual packages. I was fortunate a number of years ago to receive this scale when the previous owner was getting rid of it. It isn't much to look at, but works great!
Use a light weight container from your cupboard; weigh it on the scale, so you know how much to add when you are weighing out your ground beef.; Take the total weight you purchased, decide what recipes you want to make and how many pounds of each. On this particular day, I decided to make my 23 pounds as follows:
5 pounds of ground beef in 1 pound containers
3 pounds of hamburger patties with sweet red peppers
3 pounds of hamburger patties with onion
4 pounds of Italian meatballs
4 pounds of Swedish meatballs
4 pounds of meatloaf (each 2 pounds)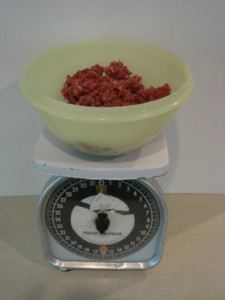 Browning Ground Beef
Measure out 1 pound of ground beef, or the amount you typically use when preparing meals. You can add onion, green peppers or garlic, if you would like. Brown it, drain off any excess fat and place in your choice of freezer container.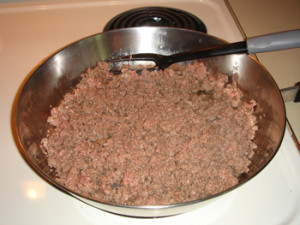 I often use Cool Whip containers for my browned ground beef. I place the containers on the top shelf of my freezer with a label and date, for easy access by my family. When you want to make any recipe that calls for ground beef, just pull it out of the freezer and thaw quickly in your microwave or add to your recipe if you need to cook it on the stove top. If you plan your meals the night before, you could remove the container from the freezer and place in the refrigerator.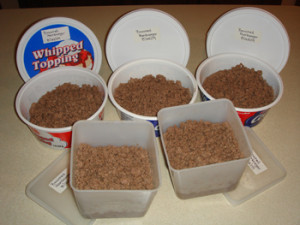 Hamburger Patties
Once you've decided how much ground beef you want to make into patties, measure that amount out and then evenly divide into how many patties per pound (I made 6 patties per pound). You can form the patties by hand or use a Tupperware form as I have in my picture.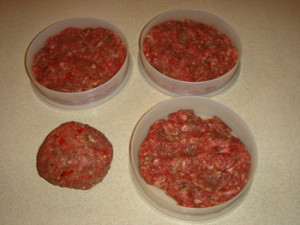 Freezing Ground Beef
Freeze the patties in the Tupperware form or single layer on a cookie sheet, if you form them yourself. When completely frozen, remove, place individually in a freezer bag or container, label and date. Remove as many patties as you want to grill or fry and keep the rest in your freezer.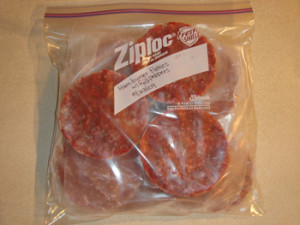 Meatballs
Measure the amount of ground beef you want to make into meatballs (I made both Italian and Swedish meatballs). Then evenly divide into the size of meatballs you want for your meal planning. Place them on cookie sheets in your freezer for about 1 hour.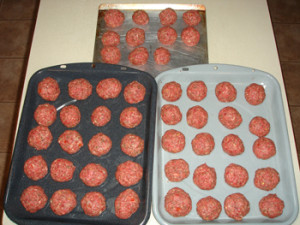 When frozen remove from the freezer and remove each meatball with a metal spatula. Label and date your freezer bag or container, place the meatballs inside and return to the freezer. Remove meatballs as needed. Italian meatballs are a great addition to your favorite spaghetti sauce or any Italian dish.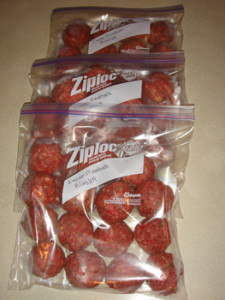 Swedish meatballs have been our family tradition for Christmas Eve Dinner, since I can remember. You can fry or bake your meatballs and then add to your gravy and pour over mashed potatoes. Yum!!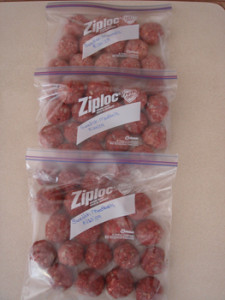 Meatloaf
If you don't have enough loaf pans to freeze your meatloaf right in the pan for an extended time, then line your loaf pan with aluminum foil.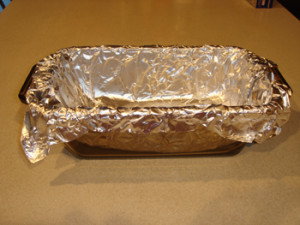 Mix up your favorite meatloaf recipe and place in the pan, gently spreading out evenly in your pan. Cover with a plastic bag and place the whole loaf pan in the freezer until frozen.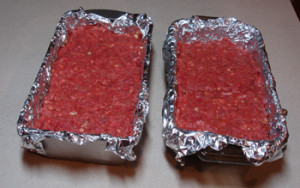 When frozen, remove from the freezer and carefully remove the meatloaf and aluminum foil from the pan. Cover the meatloaf with the foil; label and date a freezer bag or freezer container, place the meatloaf inside and return to the freezer. You can bake the meatloaf frozen or thaw in the microwave or by removing from the freezer a day or 2 before you plan to bake it. (Note: If you do bake it frozen, add additional baking time)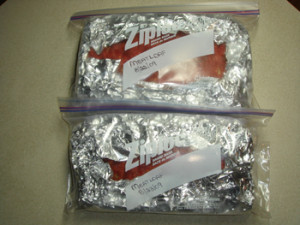 These are just a few ways I enjoy processing ground beef to make preparing meals easier on those busy days. It does take time up front, but it saves time over the long run. You can reuse your mixing bowl and measuring utensils for each batch, instead of each time you make a meal and then need to wash everything up individually (saves time, water and energy to heat the water).
Enjoy!

Latest posts by Mara Anderson
(see all)
Comments